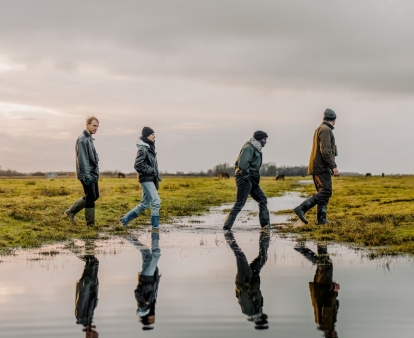 Water Natuurlijk (literally 'Water Naturally')
In nationwide terms, Water Natuurlijk is the largest water board party. Water Natuurlijk has been elected to the General Board in all water boards. During the period of 2019-2023, Water Natuurlijk is represented in the Daily Board in sixteen of the twenty-one water boards. And in the elections on March 15th, 2023, we hope to work even more strongly towards our ambition: sustainable water management for everyone.
Have you received a voting card (stempas)?
Many residents are able to vote in the water board elections even if they don't have the Dutch nationality. This applies to European Union citizens, and for anyone living in the Netherlands with a valid residence permit.
What does the water board do?
There are 21 water boards in the Netherlands. The water boards are responsible for managing water levels, quality, and safety in your local area. This includes maintaining and protecting our rivers, canals, and other water sources, as well as ensuring proper drainage and flood protection.
Why should you vote in your local water board election?
By voting in the waterboard election, you have a say in how these vital services are managed and maintained. The water boards also levy taxes. Fortunately, as taxpayers we are able to decide what money is spent on by electing representitives. So let's make use of our right to do so!
Vote for Water Natuurlijk!
Water Natuurlijk is a national party that champions the interests of nature, the landscape, and recreation in your locality. We believe that the water board should make every effort to tackle climate change, extract raw materials from sewage water, and eliminate medicine residues and microplastics from our water. The Water Natuurlijk members work every day to give you enough clean, safe, healthy and affordable water.
How do you vote?
At least two weeks before the election, eligible voters will receive two voting cards in the mail. One for the water board election and (if a Dutch national) one for the provincial council election. On Wednesday, March 15th, you go to a polling station with your voting card(s). You will also need to take your passport, drivinglicence or ID card. Even if it has expired, you will be allowed to vote as long as the expiry date is less than five years ago.

Join us in protecting and preserving our precious water resources by voting for Water Natuurlijk in the upcoming water board election and making a difference in your community.
Information about the elections (in English)
Now clean, healthy, and sufficient water

Sufficient clean water is crucial for our environment, health, and biodiversity. We have standards for water quality and availability. We create space for water and nature.
Now water and nature nearby

We work to increase water awareness by making water accessible and enjoyable. In conversation with residents, organizations, and businesses, we jointly come up with solutions for water management.

Local initiatives that contribute to:
water retention or storage,
improvement of water quality,
increase of biodiversity,
are encouraged and rewarded.

Now working together for more biodiversity

Nature is the basis for a well-functioning and healthy water system. We focus all our actions on the much-needed restoration of biodiversity.

We choose natural solutions, where necessary supported by technical measures. In case of water scarcity, we do not let nature dry out. We work on clean, natural water systems. A healthy soil that can absorb and retain water is an important foundation for this.
Now living safely by the water.

We give water a leading voice in spatial planning. Water is the guiding principle in spatial considerations by municipalities, provinces, and the national government. Our goal is spatial planning based on physical-geographic principles.
Now sharing costs fairly together

Polluting is not acceptable. If you do pollute, we believe it is logical that you pay for cleaning it up. And for what you use, you should also pay.

If both users and polluters pay, it will also be worth keeping enough clean and healthy water. When determining water board levies, we consider financially vulnerable groups.
Now giving nature a voice

In the decision-making process of the water board, nature should be taken into account, not just technical and economic factors. We strive for sustainable water management.