Clean water for everybody!
Every person who is over 18 years old, is living in the Netherlands and is registered at a municipality will receive a mail-in ballot around four weeks before the Regional Water Board elections of March 15th. This means that all citizens over 18 can vote. Water Natuurlijk is calling on everyone, also expats, to get their votes in. Every vote counts for nature and the environment!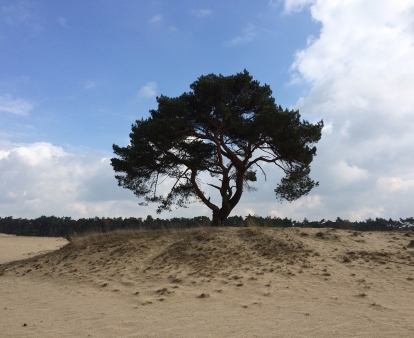 On March 15th, make the greenest party the biggest party again. Vote for Water Natuurlijk.
Brabant has lively cities and towns brimming with beautiful greenery. Our rivers and streams are the arteries which keep our living spaces green and healthy. But our beautiful Brabant is in danger. The quality of our water and nature all around us is in decline. Instances of severe rainfall, deadly droughts and destructive heatwaves are on the rise. At the same time our water is being badly polluted, putting our flora and fauna, along with our own health, at serious risk. And right now, we are at a crossroads.

We need to act. Water is life. That's why the upcoming Regional Water Board elections are so important. Elections about our water are also about our nature, our climate and our health.
We have a lot to gain, and even more to lose. Do we vote for the wants of the few, or for the needs of the many? For the polluters or for the healers? For the interests of yesterday, or for the Brabant of today and tomorrow?
Water Natuurlijk is the party with the guts to be decisive. As the largest and greenest movement, we are the voice of nature, climate and health. A movement of people who want to give green a voice. We opt for a green and healthy Brabant. One where we tackle the challenges of global warming together. One where we protect nature together. One where we build a healthier tomorrow together.
Choose nature!

Brabant is known for its natural beauty. Beautiful vistas, flora and fauna. From the Groote Heide to the Kampina. They need to be protected. Sadly, these areas are being hurt by drought and pollution. That's why we are taking a different approach. With much more attention going to nature, with more clean water to give nature the opportunity to start to heal. We also support farmers in their transition towards a more ecologically friendly approach to their profession. Who takes good care of water, takes good care of nature!
Our key points:
We give nature a voice.
We invest in the recuperation of Brabant's greenery and biodiversity.
We restore natural streams which keep the land healthy.
Choose climate!
The way we handle climate change is the biggest problem of our era. Already everybody is feeling the effects of flooding and unprecedented heatwaves. Times of extreme drought are lethal attacks on nature. This is why now is the time for climate action! We want more ambition and less procrastination. Together we adapt our living environment to a changing climate, with greenery, water reservoirs and cooling elements during hot summers. For a climate-conscious eco-friendly sustainable environment on a liveable planet!
Our key points:

We give climate a voice.
We invest in a climate-neutral, circular Regional Water Board in 2030.
We take steps to minimize the effects of flooding, droughts and heatwaves.
Choose health!
Healthy water is crucial for all life. This includes the greenery around us, and all of the areas in which we live. But clean water doesn't naturally come that way. It is too often that we see our water being tainted by harmful chemicals, among other things. Ask yourself: Should we not be able to enjoy clean water wherever we are? This is why Water Natuurlijk is focusing its efforts on clean water in Brabant. And we want a fair and social distribution of benefits and burdens. Those with the broadest shoulders need to bear the heaviest load.
Our key points:
We give health a voice.
We choose an honest and fair approach.
We focus on the main causes of our polluted water.